Using a
sunshade net
can protect your crops from harmful UV rays. Using a shade net can also keep your plants cooler, so that they can grow more effectively.Having a shade is important in helping plants grow. There are many kinds of shade to choose from. You will need to decide what is the best material for your needs. There are some guidelines to follow in order to make sure you get the most out of your money.The best material for your needs depends on how large your area is and what type of plants you plan to grow. There are two main types of shade netting. The first is made from a high-strength polyester yarn. The second is a laminated combination of two layers of transparent PE film with aluminum foil. Both types have their own merits. The first one is lighter than its cousin and is easy to install. The second type is more cumbersome and requires a little more finesse.
Brown Black Shade Net 100GSM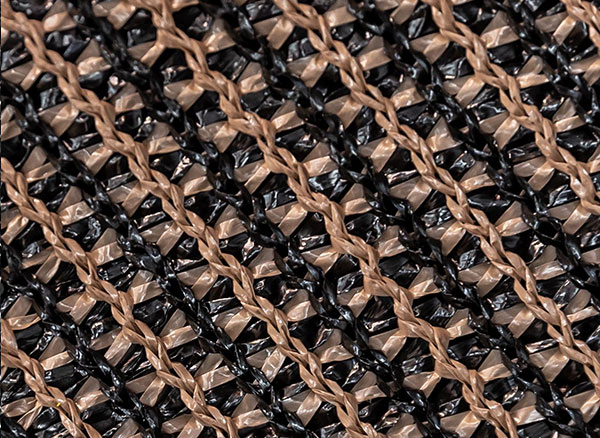 6-pin black-brown shade mesh with tonal overlock. The sunshade net is made of polyethylene (HDPE) material with about 1-5% UV stabilizer and antioxidant. The size can be customized, and its maximum width can reach 12 meters. The weight per square gram of the shading net is 100 grams, and the shading rate can reach more than 90%. Black and brown shade nets are often used as one of the fabrics of choice for shade sails, because they are woven with black and brown and coffee colors, so that they can achieve a high shade rate even with low gram weight. It is an economical Shade sail fabric options.
Aside from the main job of shading, you can also utilize the aforementioned aluminum foil sunshade to reduce the temperature of your greenhouse. This helps reduce transpiration and water consumption.Whether you're looking to protect your crop from harmful sunlight or frost, you can find a variety of shade netting that can help you achieve your goals. But before you make a decision, there are a few factors you should keep in mind.Knitted shade netting is a lightweight option that can be easily installed on greenhouse roofs, simple support structures, and even on your patio.It's made from polyethylene and uses mono threads for a stretchy and flexible finish. It's resistant to tearing, shrinking, and wind damage.It's easy to install and cut on site and is UV stabilized to protect crops from the sun. It also offers comprehensive protection against insects and wind.
Depending on the density and type of shade netting you choose, you can expect a lifespan of about two to eight years.The fabric is constructed with a lockstitch knitted construction, which reduces the heat buildup. It also creates thousands of tiny vents, which allow air to flow through.Using Sunshade nets to protect crops from UV rays may be an effective solution to minimize the effects of excessive UV radiation and its secondary metabolites on plant growth. Studies of the effect of covering materials on plant photosynthesis have shown that these products have positive impacts on several characteristics of plants, such as photosynthetic rate, total yield and marketable yield. Various plants, such as tomato, pepper, radish and eggplant, are known to respond positively to UV blocking materials.These responses are not always consistent, however.
For example, some studies found that strawberries had neutral reactions, while others reported positive reactions. In contrast, the effects of UV radiation on tomato, rapeseed, lettuce and pea were not consistently observed.The role of UVB signalling in plant physiological functions has not been fully explored. In fact, the majority of studies on coloured nets have not reported irradiance measurements at wavelengths relevant to UV irradiance. This is a serious gap in our knowledge.Spectral characterisation of the light environments is essential to assess the effect of covering materials on the growth of plants. The spectral quality of the UVB waveband is proportional to the total irradiance throughout the day.