Crops undergo various environmental changes, and the quality of crops depends on changes in weather. Weather is something out of human control. However, producers must adopt new strategies to keep crops safe and intact. Summer and hot, dry winds are likely to damage crops. Shade mesh is very useful in controlling the environment. It helps to let through the only needed wind, sunlight and moisture.
Yellow White Shade Net 100GSM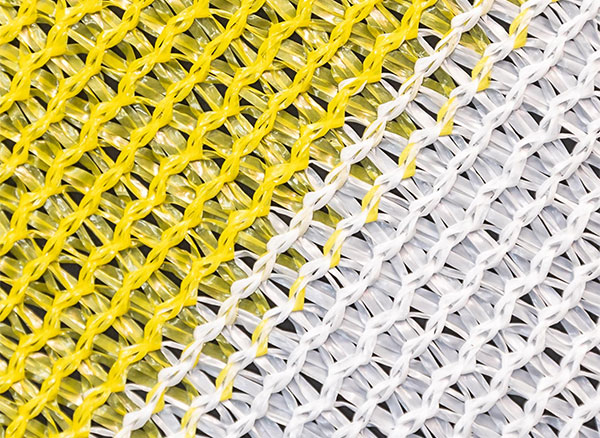 COLOUR:YELLOW WHITE
SIZE:WEIGHT MAX 12m
MATERIAL:HDPE
SHADING RATE:90%
GSM:90-150
UV:1-5%


It helps to control the environment inside the greenhouse for better crop quality. Different plants require different amounts of sunlight and air, so controlling the environment becomes critical. Shade nets play an important role in agriculture as it protects crops from harsh sunlight. Wind speed is the main cause of crop damage. The wind speed must be reduced for the crops to grow properly. Wind speed is controlled by shade mesh.
A range of blackout mesh fabrics are available, also in different colours and shades. It can be used for various purposes, such as growing vegetables in greenhouses, can be used for cattle shields, poultry, shade sails, swimming pools, garden balconies, etc. Sunlight can damage crops, especially in summer when the heat is at different levels. Overheating is bad for anyone, and neither are crops and plants. Shade nets protect crops from strong sunlight and maintain an environment suitable for growing specific crops. There are different percentages of shade nets available for different crops and plants.
Percentage refers to the amount of sunlight passing through. Shade nets are usually preferred at 40% to 60%. However, it depends on the plants which environment is best for them. Sunlight is important for crop growth, but too much of anything is bad. The extra sunlight damages the plant, the photosynthesis process is disrupted, and production levels are reduced. Shade nets help keep the temperature at an optimum level for increased production.