There are several advantages of using
HDPE fencing net
over traditional materials like wood or metal. Here are some of the key advantages:

1.Durability: HDPE fencing net is highly durable and can withstand exposure to harsh weather conditions and UV rays without fading, cracking, or warping. It is also resistant to chemicals, making it an ideal choice for industrial applications.
2.Lightweight: HDPE fencing net is lightweight and easy to install, making it a popular choice for large-scale fencing projects. Its lightweight nature also makes it easy to transport and maneuver.
3.Cost-effective: HDPE fencing net is often less expensive than traditional fencing materials like wood or metal, making it a cost-effective option for budget-conscious buyers. Additionally, its long lifespan and low maintenance requirements can further reduce overall costs.
4.Low maintenance: HDPE fencing net requires minimal maintenance compared to traditional materials like wood or metal. It does not require painting or staining and can be easily cleaned with soap and water.
5.Environmentally friendly: HDPE fencing net is made from recycled materials and can be recycled at the end of its lifespan. This makes it an environmentally friendly choice for those looking to reduce their environmental impact.
6.Safe: HDPE fencing net is designed to be safe and will not splinter or crack like traditional fencing materials. It is also less likely to injure animals that come into contact with it.
Overall, the advantages of using HDPE fencing net over traditional materials make it an attractive option for a variety of applications, including residential, commercial, and industrial fencing projects.
Fence Mesh FMS001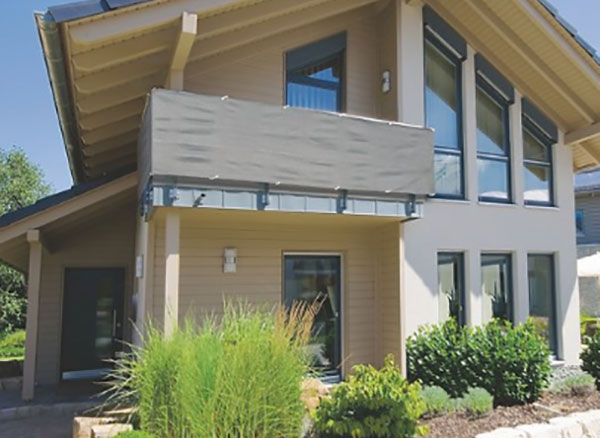 Product Parameters:
Material: HDPE, UV
Weight: 165gsm
Width: max 10m
The protective net FMS001 is a black net, which is mostly used for protection in balconies and gardens. The protective net is made of polyethylene material with about 1-5% UV stabilizer and antioxidant added. The size can be customized, and its maximum width can reach 10 meters. The weight per square gram of the protective net is 165 grams, and the shading rate can reach more than 95%. The protective net is surrounded by nylon braided tape, 6 sewing threads are stable, and supplemented by iron loops. Its tensile force and stability are much higher than ordinary sunshade nets.