SpectraNet is a specialist
agriculture sun shade net
that has been specially designed to provide comprehensive protection for plants against wind, birds, drought, and insects. It is made of high quality colour concentrates and polyethylene. Its design ensures good air circulation and moisture exchange. It is available as 50-meter rolls. SpectraNet can be used to create the ideal microclimate for crops, seedlings, fruit, and cut flowers. It also provides large savings on chemical sprays and water.It has a waterproof coating that protects it from the harsh weather conditions. It has been designed to provide protection from excessive photosynthetic radiation (PAR). This can be harmful to crops, and can lead to smaller yields. It also protects the crops against sunburn. It is made of UV stabilisers and high-density polyethylene, which makes it a durable and effective shade net.
Color Stripe Shade Net 100GSM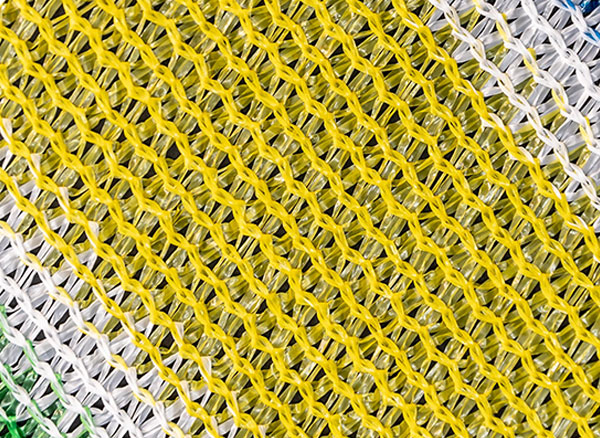 6-pin color-striped shade net with tonal stitching. The sunshade net is made of polyethylene (HDPE) material with about 1-5% UV stabilizer and antioxidant. The size can be customized, and its maximum width can reach 12 meters. The weight per square gram of the shading net is 100 grams, and the shading rate can reach more than 90%. The color-striped shade net is woven in 4-color intervals, namely white, blue, yellow, and green. The interval of different colors makes it more colorful, which is favored by merchants and suitable for commercial streets.
During the monsoon season when there is heavy rainfall in the area, it is essential for farmers to find the right solution for their crops. The shade net is the best option for the farmers, as it will not let the plants be exposed to the natural elements. Moreover, these shade nets are durable and flexible, which makes them ideal for any kind of horticulture.The waterproof shade net is a type of netting fabric that provides extra strength to resist the effects of hailstorms. It is woven and supported by high density polyethylene, which acts as a protective agent against high wind speeds. These shade nets are also very easy to install and cut. They are also available in different sizes. You can fix them with Tenax FIX-TIE plastic ties.
Whether you want to protect plants from summer heat, or protect your greenhouse from winter weather, the Sun Shade Net has a durable protective covering solution that will work for you. Aside from being a moisture barrier, the fabric will also help improve light diffusion and improve your crop's early yields. This product is available in several shade percentages, and the rate can be customized based on your needs.Another advantage of the Knittex agriculture sun shade net is that it is made of 100% virgin HDPE.
These nets are also UV resistant, which means that they can withstand extreme heat and sun exposure. It is also easy to clean and repair, and can be easily fixed. This is especially helpful in protecting plants from hail damage. It has a uniform mesh that allows for easy installation and removal.Agricultural shade nets provide a protective barrier against the harsh sunlight. Shade nets also help to maintain moisture in the soil and prevent the growth of unwanted plants. In addition to providing protection, shade nets also help to improve seed germination. Agricultural shade nets can be used for both indoor and outdoor applications. They are equally effective at low and high temperatures.