A
sunshade net
is a type of mesh that is used to protect poultry from sunlight. They are made of a polyethylene material, such as high-density polyethylene propylene, which is treated with an anti-oxidant and UV stabilizer. The net is strong and durable, with high tensile strength and corrosion resistance. Sunshade nets are mostly used in aquatic poultry breeding. The benefits are clear: the net protects poultry and increases productivity.Polyethylene sunshade net can be used for a variety of applications. It can be a temporary fence or a roof for seedlings, and can block up to 70% of the sun's rays. It's made of durable polyethylene and has been safety tested. This type of net is ideal for use in a farm, garden, or nursery.
Bule White Shade Net 100GSM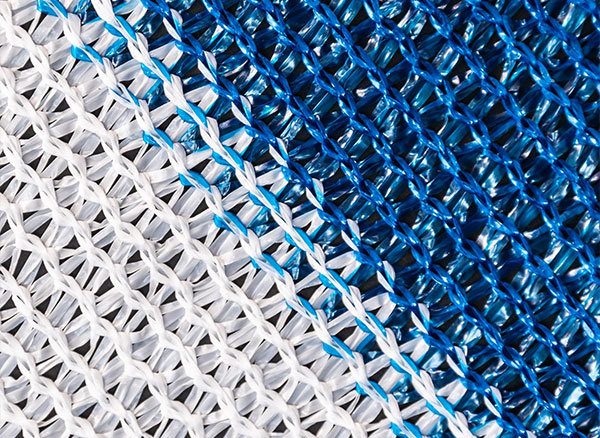 6-pin blue-and-white shade mesh with tonal overlock. The sunshade net is made of polyethylene (HDPE) material with about 1-5% UV stabilizer and antioxidant. The size can be customized, and its maximum width can reach 12 meters. The weight per square gram of the shading net is 100 grams, and the shading rate can reach more than 90%. Most Asian countries such as Japan, Thailand, and Malaysia will use this color shade net as a windscreen, which not only protects privacy, but also shades and winds.
This product is made of high-density polyethylene (HDPE) that is treated to resist ultraviolet rays. It is a durable shade net, which offers excellent ventilation and light diffusion. It also helps keep livestock and greenhouses cooler. Its grommeted edge reduces sagging and is available in a wide variety of sizes.The Aluminum foil sunshade net has many functions. It is a net made from pure aluminum foil strips and transparent polyester film. The main function of this type of net is to reduce the temperature caused by sunlight. It can be used in gardens, greenhouses, and even in kennels.It is also very attractive and has a better shading effect than ordinary nets. To get the best shading effect, you should install this net on the skeleton of your terrace, arch shed, or archway.
You should leave a space of at least 20 cm to prevent the sun from shining through.Sunshade net is a highly effective awning covering that can be used for large areas. Its versatile use makes it an excellent option for a variety of applications, including greenhouses. Shade net allows for maximum ventilation during hot weather and prevents plants from damage. It is also available in a variety of colors.A lightweight sunshade net is a great way to protect your patio or backyard from the sun. This netting is reusable, foldable, and heat-resistant. It also blocks up to 50% of ultraviolet rays. It can also be used for livestock housing. It is also a good choice for backyards, patios, and even swimming pools.
These lightweight sunshade nets are easy to install and can be used almost anywhere. They are also perfect for temporary fencing, tennis courts, and hail protection. Lightweight sunshade netting is available in a variety of colors and materials, making them a versatile addition to any home or outdoor space.Anti-aging sunshade net is an eco-friendly product that provides shade for outdoor spaces. It is made from polyethylene (HDPE), a material that is highly resistant to UV rays and wind. The material is durable and can block up to 85% of the sun's rays. A great option for greenhouses and other outdoor areas, it is also available in a variety of shade densities to accommodate different types of plants and weather conditions.