A
sunshade net
is a type of fabric that is designed to provide shade and protection from the sun's harmful rays. It is commonly used in agriculture, gardening, and outdoor recreational areas. Sunshade nets are made from a variety of materials, including polyethylene, polypropylene, and polyester.

Sunshade nets work by blocking the sun's rays, reducing the amount of heat and light that penetrates the net. This creates a cooler and more comfortable environment for plants, people, and animals that are under the shade. In addition, sunshade nets can also help to protect plants from excessive exposure to the sun, preventing sunscald, wilting, and other types of damage.

Some of the key features of sunshade nets include:
1.UV protection: Sunshade nets are designed to block the sun's harmful UV rays, providing protection for plants and people.
2.Breathable: Sunshade nets allow air to circulate through the fabric, preventing heat buildup and reducing the risk of mold and mildew.
3.Durable: Sunshade nets are typically made from high-quality materials that are resistant to tearing, fraying, and fading.
4.Customizable: Sunshade nets can be customized to fit a wide range of applications, including agricultural, gardening, and outdoor recreational areas.
Sunshade nets are available in a variety of colors, densities, and sizes to meet different needs and preferences. They are an affordable and effective way to provide shade and protection from the sun, making them a popular choice for farmers, gardeners, and outdoor enthusiasts.
Yellow White Shade Net 100GSM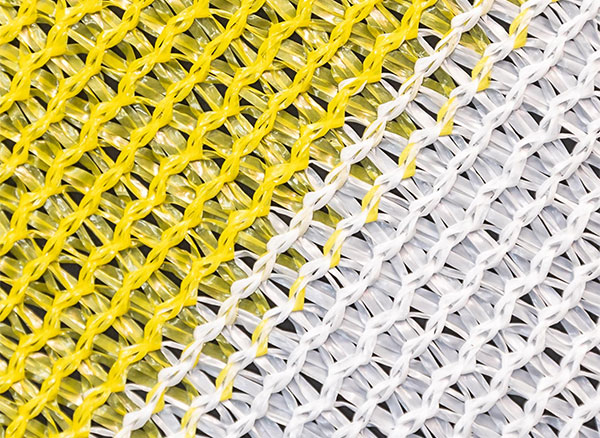 6-pin yellow-white shade net with tonal stitching. The sunshade net is made of polyethylene (HDPE) material with about 1-5% UV stabilizer and antioxidant. The size can be customized, and its maximum width can reach 12 meters. The weight per square gram of the shading net is 100 grams, and the shading rate can reach more than 90%. The color combination of yellow and white is easier to catch people's eyes, and its characteristics of light transmission and shading make most people choose to use it in home gardens.