The best material for a
sunshade net
depends on the specific needs and requirements of the user. Here are some common materials used for sunshade nets:
1.High-Density Polyethylene (HDPE): This material is lightweight, durable, and UV resistant, making it ideal for sunshade nets. It is also resistant to tearing and is easy to install.


2.Polyvinyl Chloride (PVC): PVC is another popular material for sunshade nets due to its high tensile strength, UV resistance, and durability. It is also resistant to water and chemicals.


3.Polyester: Polyester is a strong, lightweight material that is often used in combination with PVC or HDPE to increase the strength of the sunshade net. It is also resistant to UV rays and can withstand high temperatures.


4.Knitted Fabric: Knitted fabrics are breathable, making them ideal for sunshade nets. They are also lightweight and can be easily installed.


Ultimately, the best material for a sunshade net will depend on factors such as the level of UV protection needed, the desired durability, the size of the area to be covered, and the intended use of the net.
Yellow White Shade Net 100GSM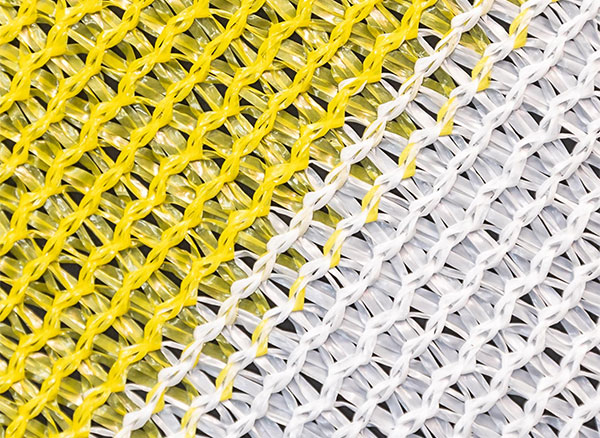 6-pin yellow-white shade net with tonal stitching. The sunshade net is made of polyethylene (HDPE) material with about 1-5% UV stabilizer and antioxidant. The size can be customized, and its maximum width can reach 12 meters. The weight per square gram of the shading net is 100 grams, and the shading rate can reach more than 90%. The color combination of yellow and white is easier to catch people's eyes, and its characteristics of light transmission and shading make most people choose to use it in home gardens.